About Vincix Group
Founded by Vincenzo Marchica, Vincix Group is a multi-national RPA and AI company focused on streamlining, optimizing and automating key processes for customers.
Vincix Group's RPA solutions do not require changes in IT or hardware resources, ensuring an accelerated flow of information, reducing operational errors and eliminating delays. Vincix Group's ultimate goal is to make business processes more robust, faster and more efficient
Vincix Group helps its customers to make business processes more effective, faster, and more efficient.
For 12 years we have specialized in Robotic Process Automation (RPA) solutions that allow obtaining:
Significant benefits
In a very short time
On the existing IT infrastructure
Our Goal:
Design and implement automation solutions at Pay Back Time < 12 months not only "reducing/eliminating repetitive and "low-value activities" but also:
Optimizing processes
Enhancing the work of people
Using the elemental data processed for:

Constantly monitor KPI and SLA
Encourage continuous improvement
Feed the applications of Artificial Intelligence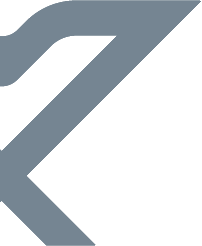 How do we work?
We propose RPA solutions which do not require changes on the IT systems, nor on hardware resources, ensuring accelerated flow of information, reducing operational errors, and eliminating delays.
Elicopter View: The "helicopter view", is the phase in which a skilled consultant can help to immediately view "good" processes for the RPA.
This phase must be fast and concrete!!
Analysis: We examine processes in order to identify the various steps that can be automated
Development: We design and develop the solution that best suits our customers' needs
Monitoring: We provide monitoring tools which allow early knowledge of potential problems
Target: Design, develop, monitor, and continuously improve business processes. Our ultimate goal is to make our business processes more robust, faster and more efficient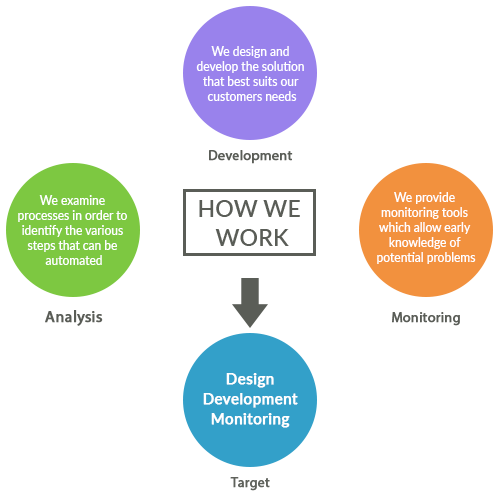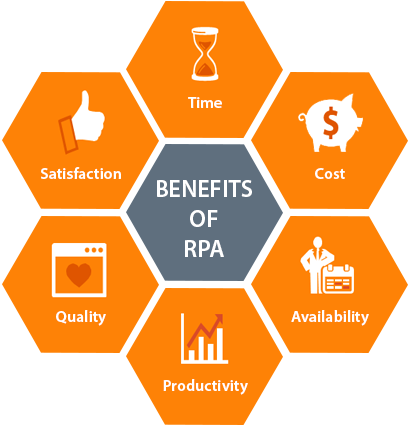 Vantaggi dell'RPA
Optimizing

 times of

 

business process management

Satisfaction of corporate staff

, relocated to more fulfilling tasks

Improvement in the quality of work

 

thanks to technological RPA solutions

Saving

 in terms of cost
Execution of processes

 

24 hours, 7 days a week, 365 days a year

Minimizing the risks of human error and increasing

 

company productivity
Automatable Business Processes
Time reduction of all business process management